Board & Staff
Our board members
Our board represents a cross-section of our community and has a passion for our organization and those we serve. The members work hard to ensure long-term sustainability of the organization and oversee that the expenditure of library funds.  Board members serve 2 three year terms.  Since this is a city/county library two board members are appointed by the county commission and two by the city commission.  Additionally, one city commissioner and one county commissioner serve on the board bring the total board membership to six.
The board meets monthly on the third Thursday at 5:30pm.  Meeting are open to the public and library patrons are encouraged to attend.
Hilde Van Gijssel

President, represents Barnes County, second term expires June 2024

Deedra Froemke

Secretary, represents Barnes County, first term expires June 2024

Vicky Lovell

Barnes County Commission Representative

Dewey Magnuson

Valley City Commission Representative

Kelsey Ihry

Represents Valley City, appointed to fill remainder of term expiring June 2025

Annie Beauchman

Treasurer, represents Valley City, first term expires June 2025
Eight part series to familiarize new board members with their duties and responsibilities while serving on a library board.
Presented by the North Dakota State Library in 2021
Our director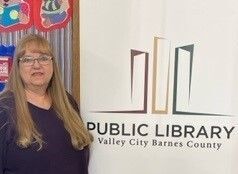 Our Library Director is Anita Tulp. Anita is a long-time resident of Valley City and Barnes County and a long-term supporter of the VCBC Public Library.
Message From Our Director:
"I am truly excited to be a part of the Valley City Barnes County Public Library team! During my youth, the library was a special place. The library was a place where I felt totally safe and in it I could find many avenues of escape through the world adventures of a wide variety of characters. In later years, the library became an important resource for my educational needs.
My experiences as a graduate of VCSU, a former school librarian and teacher, Director of Wesley Acres Camp, and as Office Administrator for my church, have given me not only the management skills necessary to be director of the library but have also instilled the importance of being a servant leader to people of all ages with a wide variety of ideas and opinions.
In today's world the library needs to be much more than just a place to find books to read. It needs to be a resource for our community and not only provide support for our patrons, but for our businesses, government entities, and other organizations in multiple ways. It is essential for the library to work together with community members and organizations to think forward and anticipate the future needs of our community in order to support the development and growth of the people and the organizations within it.
I am honored to be a part of a library where our past and present staff have worked hard to offer a wide range of programs to our patrons and community. The library provides access to technology, the fellowship of book clubs, support for home schools, summer educational programs, craft and play times, and many other opportunities for people to access what they need. Through access to the materials and activities available in the library people can become more confident and productive in their work as well as in their life.
That is my goal! I can think of nothing more rewarding that seeing a smile on someone's face when they have been successful in finding the answers to their questions, finding the perfect book for entertainment, or finding a group or activity in which they feel welcome and supported. If I can be a part of their success in even a small way, I will have done my job!"
Board or director; who does what?
Our staff
The library staff is dedicated to meeting the informational, educational, and entertainment needs of our patrons.  They are the front line of all things library related and take pride in the quality of service we provide.